Drawing Anime Characters – Full Features and Emotions
Learn graphic design techniques for drawing full features and emotions of anime characters in this free online course.
Publisher:

Manar Ali
If you are in graphic design and have always wanted to learn how to refine your drawings, then this free online graphic design course is the perfect place to start. Drawing anime characters takes time and effort and the methods can be complex at times. This course simplifies the techniques of drawing anime characters' complete facial and body features and emotions including different-aged male and female characters as well as their clothes.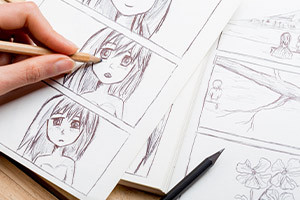 Duration

1.5-3 Hours

Accreditation

CPD
Description
This short, free online graphic design class covers the techniques for drawing the features and emotions of anime characters and begins with a demonstration of how characters' emotions can be added to their faces and an explanation of simple techniques for adding emotions to a character. It goes on to demonstrate the process of drawing a completely detailed face of a female character, as well as that of a serious-looking male character. This part of the graphic design certificate concludes with a demonstration on how a complete female character is drawn.
The second half of the course begins with a detailed explanation, and a demonstration of how the facial features of a male character can be added to make a complete front view, and how to add the clothes. This is followed by a demonstration of how the side view of a female character's face is drawn, and how facial features are added to this view. 
The design course concludes with a summary of earlier lessons, and advice for beginner and experienced artists. The knowledge gained in this course will simplify the process of drawing, and adding emotions to anime characters, but can also be applied to a vast array of other illustrations. The methods taught can be great to add to your graphic design portfolio if you have aspirations of moving into the animation field or simply want to broaden your skill set. You should enrol in this short course whether you are a professional in the field of graphic design or have taken it up as a part-time hobby and want to refine your abilities.
Start Course Now