Diploma in VMware and vShpere 6.5 Administration
This free online course on VMware and vSphere 6.5 administration discusses virtualization concepts for a system admin.
Publisher:

Workforce Academy Partnership
This free online diploma course on VMware vSphere takes you through the foundation of the Software-Defined Data Center. The course introduces learners to the latest concepts on virtualization and technologies that influence virtualization infrastructure design as well as methods used in improving server technology. By the end of this course, you will have learnt the concepts, skills and mechanics you need to get you started as a VMware vSphere 6.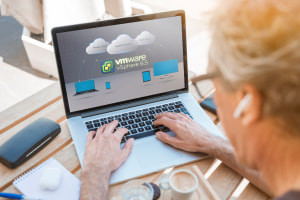 Duration

10-15 Hours

Accreditation

CPD
Description
VMware vSphere is the foundation of the Software-Defined Data Center. The new vSphere 6.5 extends your ability to virtualize scale-up and scale-out applications, redefine the availability, and simplify your virtual data centre. This Diploma in VMware vSphere 6.5 course will help you to learn advanced virtualization concepts. Are you a system administrator who needs to work with vSphere virtualization? An important objective of this course is to instil the knowledge required for you to do your job efficiently and effectively, starting from installation to real-world troubleshooting issues. The course covers the powers of using VMware technology and the entire concept of virtualization. The course discusses third-party tools and technologies that enhance VMware capabilities and the expertise of a systems administrator. By taking this course, you will gain in-depth knowledge of how virtualization drives better business outcomes and enables business agility. There are different terminologies on VMWare and vSphere that a system administrator needs to be familiar with. The course enhances your knowledge of the terminologies and requirements needed to enable the software-defined enterprise through real-world use cases and scenarios.
The course takes you through how to install and configure the ESXi hypervisor. You will learn about the ESXi host management network. You will explore virtual and physical networking. Virtual networking is used to provide Ethernet and TCP/IP networking to VMs. Physical networking is used by both ESXi and VMs to communicate to physical network peers. You will learn to build NIC teams for fast, reliable networking. There are other functionalities of the ESXi covered in this course. You will learn how the ESXi uses file shares for Virtual Machines backups and as a repository for installing media images or hosting VM clones or templates. You will study the file formats supported by ESXi. Connection issues occur if you do not a solid grasp of the ESXi technology. The course expains how to connect and disconnect from file shares as well as best practices for achieving both high performance. Have you ever wondered how critical virtual machines are in network systems administration? You need not worry again as you will learn how to build virtual machines as well as the features and capabilities of the virtual hardware layer. You will see real-life examples of how to install a guest OS into your new VM. The purpose and benefits of VMware Tools are well covered in this course.
Are you an individual who is willing to excel in VMware vSphere? This interesting course is particularly suitable for anyone interested in working in the network systems administration sector or who simply wants to learn more about virtualization. The course captures the concept of VMware and vSphere from the most fundamental to the most advanced aspects of virtualization. The vSphere Replication is a hypervisor-based, asynchronous replication solution for vSphere virtual machines. It is fully integrated with VMware vCenter Server and the vSphere Web Client. The course covers the entire process of vSphere replication. A relatively new concept in VMware elaborated upon in the course is the VMware site recovery manager. The VMware Site Recovery Manager, a continuity and disaster recovery solution, helps in planning, testing, and running the recovery of virtual machines. The course explores the relationship between a protected vCenter Server site and a recovery vCenter Server site. Do you need to work with vSphere virtualization? Are you a Programmer, and you want to learn how to create vSphere Virtual Machines? Or are you looking at opportunities for gaining professional skills and earning more money? Then this course is a sure pathway to success for you. Start this course and begin your journey of becoming a certified professional virtualization expert.
Start Course Now