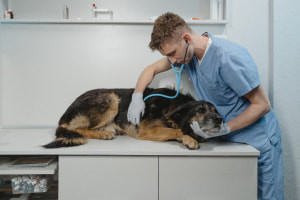 Diploma in Veterinary Medicine
-
Learners already enrolled
This Free Online Course Includes:
Hours of Learning
CPD Accreditation
Final Assessment
Start Course Now
COURSE PUBLISHER
Published by
-
Diploma in Veterinary Medicine
This free online course provides the skills you need to be a veterinarian who provides great healthcare to animals.
Veterinary medicine prevents, diagnoses, manages and treats illness and injury in ani...
Veterinary medicine prevents, diagnoses, manages and treats illness and injury in animals. This diploma course explains how a physical examination can lead to a diagnosis. We delve into the medical history of the field and define 'biosecurity' and 'infection control'. We then establish the importance of finding the correct targeted therapy and culture. Sign up to learn the basics of veterinary healthcare and use this diploma to begin your career.
Read More
In This Free Course, You Will Learn How To
View All Learning Outcomes
View Less
Complete This CPD Accredited Course & Get Your
Certificate

!
Certify Your Skills

A CPD accredited Alison Diploma/Certificate certifies the skills you've learned

Stand Out From The Crowd

Add your Alison Certification to your resumé and stay ahead of the competition

Advance in Your Career

Share your Alison Certification with potential employers to show off your skills and capabilities
Learner Reviews & Feedback For Diploma in Veterinary Medicine
View More Reviews
Back to course information
About Your Alison Course Publisher
- Alison Stats
- Alison Stats
- Learners
- Courses
- Learners Have Benefited From Their Courses
Read More
More Free Online Courses by This Publisher
Learners Who Took This Course Also Enrolled In
Frequently Asked Questions
Where can I work once I obtain a veterinary diploma?
What will I learn in the Diploma in Veterinary Medicine course?
Which course is the best for training as a vet's assistant?
What skills will I develop in a diploma in veterinary medicine course?