Communication Skills - Perception and Non-Verbal Communication
Gain a better understanding of the basics of nonverbal communication to help you become a more effective communicator.
Publisher:

NPTEL
This free online course in communication skills focuses on perception and nonverbal communication. It will help you understand the world around you, allowing you to view and hear things differently. You will study how to interpret facial expressions, the basics of auditory perception, and explore nonverbal communication skills including concepts such as space and gestures to help you become a more effective communicator.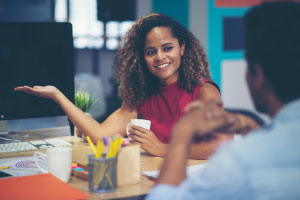 Duration

1.5-3 Hours

Accreditation

CPD
Description
This course will begin by discussing perception, attention, and the different types of visual perception. You will learn that the way we view things affects our perception and that different cultures depend on different modes of communication. Today's culture depends on visuals which have an effect on how we communicate. This course will discuss the move from text communication to images. You will also look into the problem of the simulacrum which is when the simulation appears like reality, for example, if a drawing appears lifelike.

You will then look into nonverbal communication in relation to emotion. According to one study, the percentage of the components of communication is messages at 7%, vocals at 38%, and nonverbals at 55%. With this course, you will also learn that in face-to-face communication, the verbal component consists of about 35%, and the nonverbal component is around 65%. You will also study how space is used in nonverbal communication, the importance of facial expressions to communication, and the difference between genuine and false expressions.

Improving your nonverbal communication skills will greatly enhance your personal life and career. With this free online course from Alison, you will easily gain a better insight into how our world can be perceived through visuals and sounds. You will learn the role of visual and aural perception in communication, including their relevance in the context of multimedia culture and new technologies. Check out this course and learn the art of nonverbal communication now!
Start Course Now