Communication Skills - Group Work and Networking
Learn effective communication strategies for building relationships, conflict management, group work, and networking.
Publisher:

NPTEL
This free online Communication Skills course teaches about group work and networking. Any relationship can experience conflict at some point in time. With this course, you will learn the role of communication in building and maintaining relationships. You will study the theories of group dynamics, the main types of groups, verbal and non-verbal communication strategies and conflict-handling styles, and the importance of having a social network.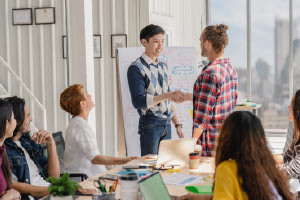 Duration

1.5-3 Hours

Accreditation

CPD
Description
This course will teach you how to maintain important relationships through communication. You will first study the different types of relationships which include deep, moderate, casual, and passing. You will study the different stages of a relationship, the differences between groups and teams, and the factors that affect group behavior. You will also look into the 5 stages of group development.

Conflicts are often viewed negatively and people try to avoid them, but the reality is that conflict is inevitable. This course will first discuss group conflict and teach you different conflict-handling styles. You will study the five types of conflicts, which include intrapersonal, interpersonal, intragroup, intergroup, and international. You will also learn both verbal and nonverbal communication strategies. This course will then cover the importance of human interaction and conversational skills in networking.

Group members with a strong relationship will respect each other's opinions and come up with a solution for each conflict that benefits everybody. This course will give you a better understanding of the most effective ways to work in a group. These skills will directly enhance both your personal and professional life, and give you the conflict handling abilities you need to make life that little bit less stressful. These are great skills, so check out the course today and start learning something really useful.
Start Course Now