Business Communication - Managing Successful Team Meetings
Learn the skills for successfully preparing and managing team meetings, with this effective meeting management course.
Publisher:

NPTEL
This free online Effective Meeting Management course from Alison will teach you how to manage successful team meetings. Having exemplary communication skills is crucial to helping progress ongoing projects, facilitate the development of new ideas, and resolve serious problems within a business. With the help of this course, you will soon be holding interesting, high-energy sessions with team members working together with ease.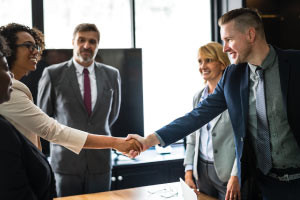 Duration

1.5-3 Hours

Accreditation

CPD
Description
This course will begin by discussing groups and teams. You will study how primary and secondary groups meet our interpersonal needs and learn that groups tend to limit their own size and create group norms. The course will then cover the typical stages in the life cycle of a group, the different types of group members, and group member roles. You will also learn how to implement the seven steps of group problem-solving.
Next, you will learn how to prepare and conduct business meetings. The course will discuss the use of technology to aid in group communications and teach you the basic principles of organizational communication. You will study the importance of teamwork and learn how to overcome various challenges to achieve group success. You will also learn about the process of leader development, the different leadership styles, and their likely influence on followers. Finally, you will learn the importance of group discussions.
Poorly managed team meetings can result in frustrated team members and be a waste of time and resources, whereas successful team meetings result in motivated team members and bring great benefits to a business. Successful team meetings depend on excellent business communication. This Business Communication - Managing Successful Team Meetings online course will teach you what it takes to conduct meetings that everyone will look forward to attending. So why wait? Check out your next course, today.
Start Course Now