Advanced Diploma in Sustainable Architecture
In this training course, learn about the basic concepts, issues, and design considerations for sustainable architecture.
Publisher:

NPTEL
This free advanced diploma in sustainable architecture explains what sustainable architecture means and how sustainable structures are designed and created. The course covers the various environmental and socio-economic aspects of sustainable architecture, including climate, air quality, waste management, and energy considerations. The course also introduces the tools and technologies that aid in the sustainable design of green buildings.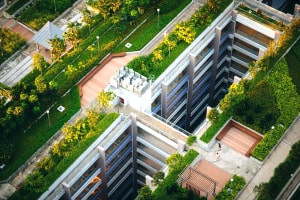 Duration

20-30 Hours

Accreditation

CPD
Description
This free online course offers an advanced diploma in sustainable architecture, explains what sustainable architecture means and how sustainable structures are designed and created. The sustainable design course begins by discussing the concept of sustainable development and how it relates to sustainable architecture. The various aspects of sustainable architecture such as the socio-economic and environmental aspects are explored in detail.
The sustainable architecture course then examines the tools for understanding the response of a building to a given climatic context, the sustainable design strategies and construction strategies to be employed, including water and other materials and resources for sustainable architecture and management of solid waste. This is followed by a study of the various criteria set for energy efficiency in buildings and indoor air quality.
Finally, the discussion turns towards the available technologies and tools that aid in sustainable design and energy efficient buildings. The course covers in detail, how to create a building model using a design builder software, including how to input various parameters into the whole building simulation software and how to understand the output of the simulation for assessing the Whole Building Performance of the model.
This sustainable design course will help you to understand the basic issues and concerns for sustainable architecture and strategies and technologies to deliver them. Although largely addressed towards undergraduate students, all others who want to learn about sustainable and green building concepts and who are planning to go ahead in the field of green buildings design and implementation will greatly benefit from this course.
Start Course Now