Adobe Illustrator: How to Design Doodle Text
Learn how to use Adobe Illustrator and its tools to design beautiful objects and text with this free online course.
Publisher:

Andrey Bzhitskikh
In this free online course, we will introduce you to the Adobe Illustrator graphic design software. You can use Illustrator for many artworks such as logos, charts, drawings and more. We'll explore how to set up and manage your workspace in Adobe Illustrator and help you understand how to use it to create fantastic artwork in the form of doodling. You'll be able to leverage the lessons learned from this course to showcase your creative thinking.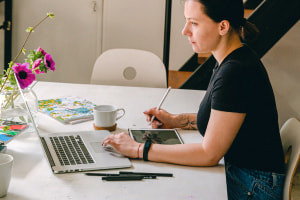 Duration

1.5-3 Hours

Accreditation

CPD
Description
Adobe Illustrator is a professional vector-based graphics software used for various artwork, such as logos, postcards, patterns, charts, diagrams, workflow, cartoons and more. This course will teach you how to use Adobe's vector-based graphics tools for Doodle Art. The creations from this course is a fun way to draw unique and attractive artwork with cute and child-like characters or random and abstract patterns. But before you start doodling with Adobe Illustrator, you need to know how to set up your workspace using the software. The workspace will help you modify your documents and files using various features, such as bars, panels and windows. By studying this course, you will learn how to set up an Adobe Illustrator workspace to start your artwork. Adobe Illustrator comes with sophisticated tools that learners must comprehend to utilize them effectively. This course will show you how to create high-quality artwork by using the Adobe Illustrator tools correctly.
The old school way of drawing and doodling ideas from your mind with a pen, pencil or brush on paper has given way to digital art. Did you know that you can now draw without the use of these conventional mediums? Adobe Illustrator has made this so much easier and accessible. We will show you how to customize your brush with different sizes for drawing and contouring digitally. You'll also learn how to set up your workspace dimensions so that you may create body shapes with various brush sizes. Next, we will show you how to draw a large number of face characters. When doodling, you may notice some empty spaces or gaps in your drawings. These gaps are sometimes unavoidable when drawing. This course will teach you patterns that you can use to fill up these gaps that may occur in your drawings.
After all of the above, we will show you how to use your doodle art to create print designs for a t-shirt as a bonus in this course. To make the t-shirt print catchy, we will teach you how to doodle facial expressions using Adobe Illustrator. This course is designed for beginners and anyone familiar with drawing who would like to improve their drawing and design skills using Adobe Illustrator. It's also a perfect opportunity to develop your skills if you believe yourself to be "creative" and often find yourself scribbling on a notebook or napkin. This course will also be beneficial if you appreciate beautiful designs on posters or in catalogues and brochures. All you need for this course is a computer with Adobe Illustrator installed on it. Some sketching skills are helpful, but it's not a dealbreaker if you can't sketch. If you have some creative ideas you want to illustrate, doodle them by enrolling in this course today.
Start Course Now