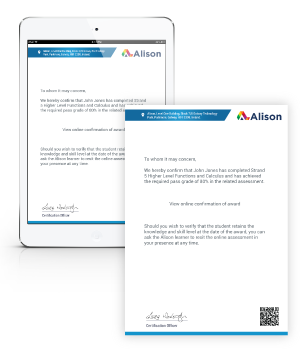 Alison can provide on request an "Attestation Letter" which provides further formal proof that a registered learner has achieved learning success with Alison. The Attestation Letter will state what award was achieved and what course was graduated from and how the award can be further checked online, via a certificate link or by in person testing.
Alison charges a flat fee of €15 to draft this letter. You will then receive your letter in 2 ways:
Free PDF Letter (downloadable from dashboard after purchase).
Physical Letter by post.
Attestation Letters are often required around the world in the following situations:
Applying to academic institutions
Applying for government positions
Job applications with private companies
Order Now